Macsons
Select
Demolition
View and download individual PDF files as needed.
92,000' of Ceiling Gone in Three Weekends
Midtown Tunnel Ceiling Removal, Norfolk VA
Macsons was contracted to remove the suspended ceiling system, including all its materials and hardware for the Downtown~Midtown Tunnel, MLK Expressway Extension. Originally constructed in 1962, the Midtown Tunnel connects the cities of Norfolk and Portsmouth Virginia, submerged under the Elizabeth River. 3,100 feet, or 5,700 individual ceiling panels, running 3/4 of a mile, was removed to make way for an extensive rehabilitation project. The tunnel was required to stay open during weekdays. All demolition work was completed during four consecutive weekends.
Asbestos Abatement for Walmart Conversion
K-Mart to Walmart Conversion,
Virginia Beach, VA
Select demolition to convert a K-Mart to a Walmart was confined to a seven week schedule, requiring over 2,500 man hours to complete on time. Delivery and turn-over dates were expedited to meet Walmart's need to expedite the opening of the new store, including processing of all interior mechanical, plumbing and electrical equipment, conduit and wiring. Work also included removal of fire suppression systems, communication systems, and all associated structural members.
200,000 Sq. Feet in Mall Stripped & Abated
JC Penny • Military Circle Mall Select Demolition, Norfolk VA
Select demolition of J.C. Penny at Military Circle Mall, in Norfolk, involved total removal of architectural, electrical, mechanical and plumbing systems. 200,000 square feet of the department store were demolished and abated. Having a 100,000 SF footprint, the two story building was completely stripped of all surfaces and systems using both heavy machinery and power tools. Over 50,000 SF of ceramic tile was removed and 60,000 SF of floor tile and asbestos containing mastic were abated.
Everything Demolished Except Brick Veneer
Norfolk Cigar Factory Exterior Preservation, Norfolk VA
This job required special engineering to protect the exterior brick facade, preserving the integrity of the masonry, while virtually everything behind the bricks was demolished and removed. Engineered bracing had to also allow for new building to be reconstructed and secured to the old brick frontage, preserving the historical outside, while completely rebuilding a contemporary inside.
Very Old Building with Unique Challenges
Historic Whittaker Hospital Building, Select Demolition, Hampton VA
DEMOLITION of this historic building entailed the meticulous removal of all elevators, steel boilers, HVAC systems, plaster walls and concrete elevation pads. Implementation required multiple miniature excavators, skid steers, torches, and special applications throughout the building, in order to handle unique challenges on each floor.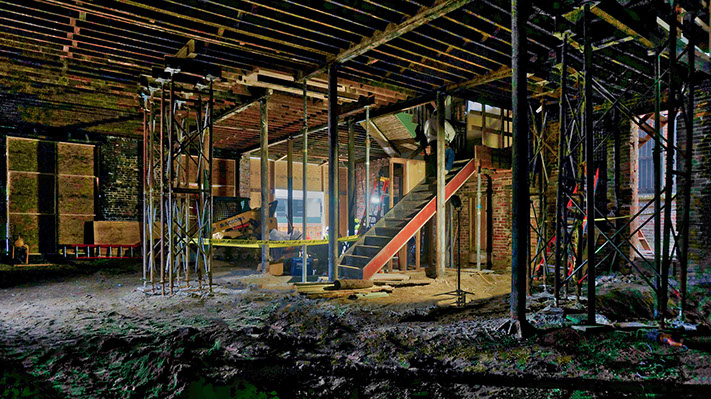 Historic Building Select Demolition
Essex Building, Norfolk VA
The Plume Street Essex building required all abatement, salvage, and demolition activities to facilitate the renovation of the historic three story building in downtown Norfolk. Items of historical value were salvaged throughout to allow for the selective demolition of specified walls, elevators, and other structural components. The entire first floor slab was also removed without damaging existing foundations or the exterior walls that remained.
Download PDF of Essex Building Select Demolition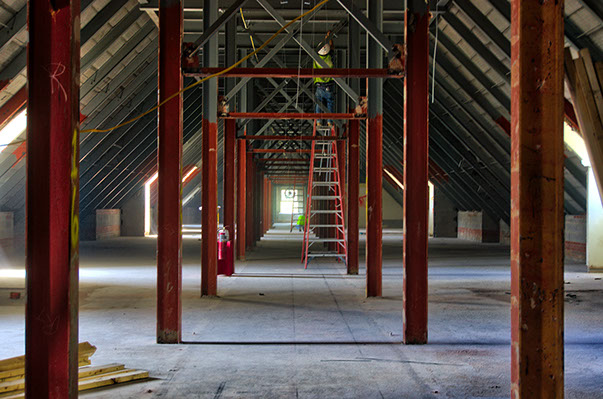 Dormitory Improvement at William & Mary College
Landrum Hall Select Demolition, Williamsburg VA
Landrum Hall is a five story dormitory. The project consisted of asbestos abatement and select demolition on all floors. Select demolition required completely gutting the entire building, including all interior masonry walls, by the use of chutes evacuating to dumpster containers below. A substantial amount of shoring was required along with some heavy demolition to remove a portion of an exterior masonry wall and footing. The total value of the job was in excess of a million dollars, taking about six months to complete.
Download PDF of Landrum Hall Select Demolition