Macsons Awarded STEP Award by Associated Builders & Contractors Inc.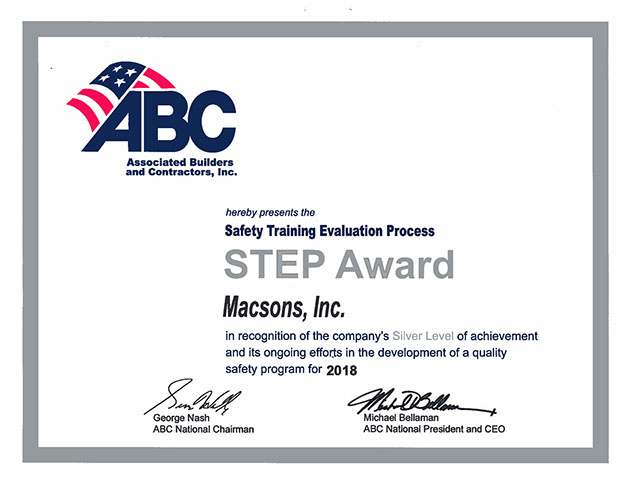 ABC's Safety Training Evaluation Process (STEP) is a safety benchmarking and improvement tool that dramatically improves safety performance among construction industry participants regardless of company size or type of work.
Construction & Demolition Recycling Magazine: Job Site Report
Article Reprint on Macsons Demolition in Norfolk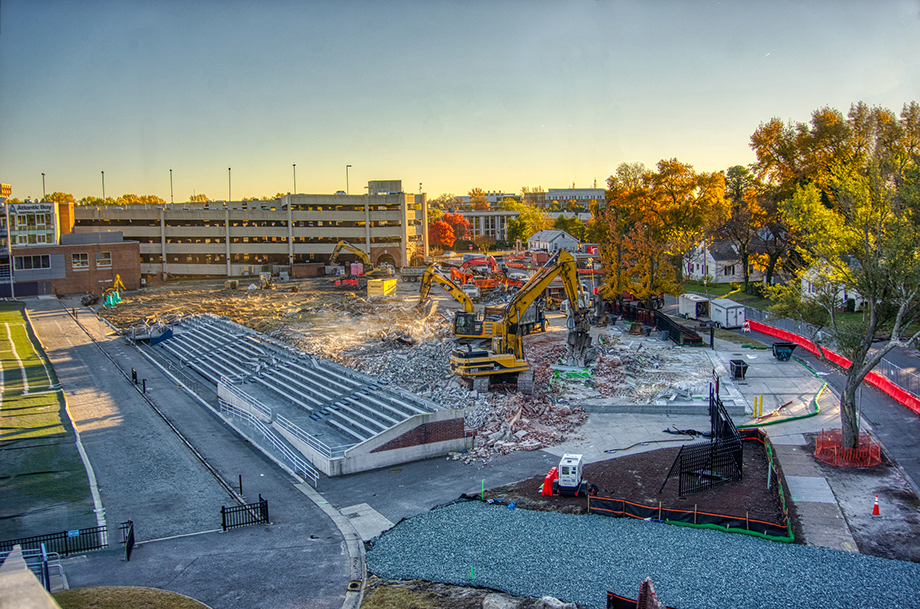 Dueling Demolition
Two top competitors work together to tear down Old Dominion University's football stadium.
KELLY MAILE
When word got out that Old Dominion University in Norfolk, Virginia, was going to demolish the iconic 82-year-old Foreman Field to pave the way for a new football stadium, demolition companies across the region bid for the job. North Carolina-based East Coast Demolition was awarded the project, but there was a catch. "They wanted to have one demolition company handle one side of the stadium and another company do the other," East Coast Demolition Project Manager Richard Webb III says. "That's when they told us one of our largest competitors in the area was going to be doing the other side." Macsons Inc., headquartered in Norfolk, Virginia, was tasked with tearing down the west side of the stadium. Shortly after fans watching Old Dominion's final game against Virginia Military Institute cleared the stadium Nov. 19, the companies staged their equipment on-site. With each contractor boasting more than 30 years of demolition experience, the companies say it wasn't the size of the project that was a challenge, but the university's time-line to complete the job. Because the university wanted the new stadium ready for the 2019 football season, the contractors had about a month to tear down Foreman Field, Webb says.
PROPER PRIOR PLANNING
Weeks before the start date, Macsons Project Manager Andrew Dunnum coordinated between the company's other job sites to make sure crews and equipment would be ready for the stadium teardown. Dunnum, who passes by the stadium every day on his way to work, says the company's employees—many of whom have children who attend the university and go to the football games—felt a connection to the project. Dunnum laid out 24-hour shifts for workers and planned which pieces of equipment would be used for each phase of the project. Meanwhile, Webb studied drawings of the stadium and calculated how to finish the project within 10 days of starting. "Every project we do is to exceed the schedule that we put out. This one was no different, but it was one of the most important," Webb says. "We knew if we ran 50 loads per day, we could move the building in 10 days." In planning meetings, Dunnum says Macsons founders Steve and Bill McCloud and Webb's father, Richard Webb II, who helped found East Coast Demolition, talked like old friends. "We had all our jokes," Dunnum says. "We're going to do [the demolition] faster than you' taunts went back and forth, but at the end of the day, [Webb III] and I both knew to make this successful for the general contractor and Old Dominion, we had to work together as a team."
In the News, November: Macsons Demolishes Foreman Field at ODU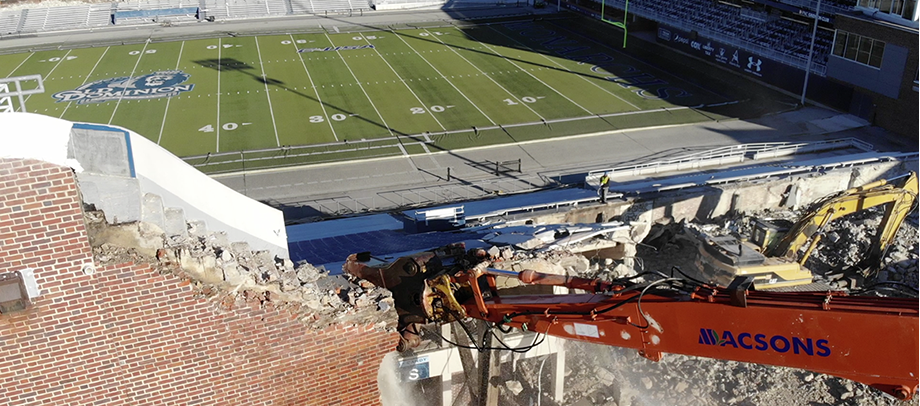 Before and after demolition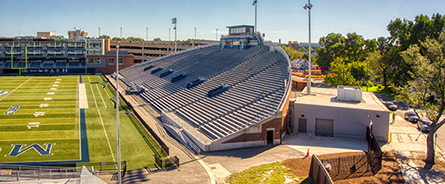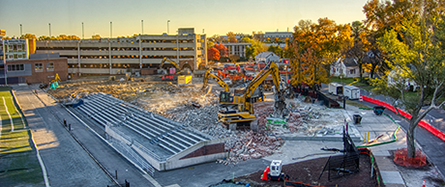 Staying on schedule can mean working through the night.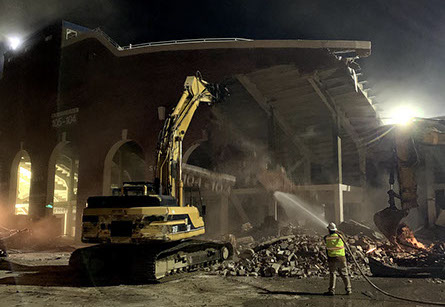 Many good memories since 1936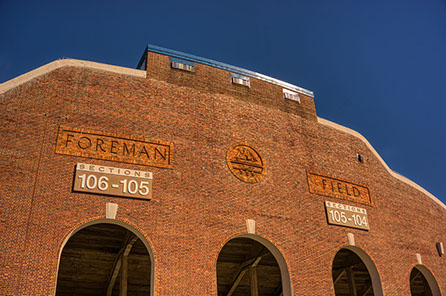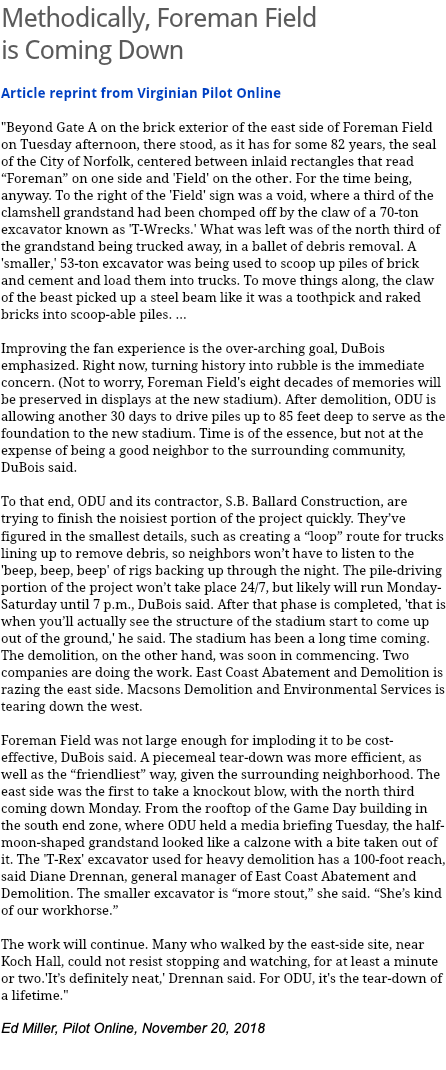 ...more images
Macsons Award for Water Treatment Plant Demolition, Newport News VA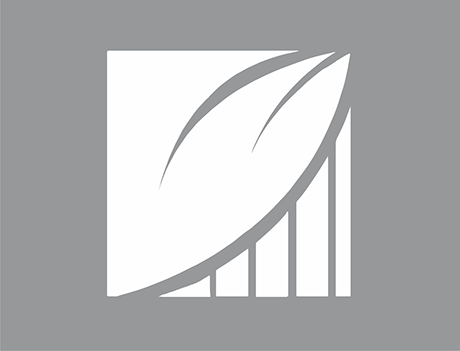 Macsons awarded ENVISION GOLD, 2018 for Lee Hall WTP work.
Envision Certification 2018
Macsons Partners with Witman, Requardt & Associates: Awarded with ENVISION GOLD rating, 2018.
Macsons partnered with Witman, Requardt & Associates on the Lee Hall project, in Newport News and earned an Envision GOLD rating in 2018. Envision is a sustainability rating system. Recognizing a serious need for infrastructure; Envision assesses not only individual performance, but how well projects contribute to efficiency and long-term sustainability. Envision not only asks, "Are we doing the project right?" but also, "Are we doing the right project?" That same infrastructure also provides the basis of healthy economies and heavily influences economic competitiveness and viability of whole communities, regions and nations. Envision fosters a dramatic and necessary improvement in the sustainability performance and resiliency of physical infrastructure. Macsons is very proud to be part of Envision and be awarded a Gold Star in our first partnership with Envision. For more information about Envision, go to www.sustainableinfrastructure.org.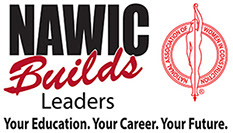 NAWIC Focus on Women
National Association Women in Construction
Marjorie Gottsch, Macsons PMA recently joined the National Association Women in Construction (NAWIC.) "We are excited to be represented at the NAWIC meetings," Steve McCloud, Macsons' CEO said. "It's a great organization to be a part of! It allows me to meet strong women in similar roles that experience the same kind of challenges. It's great to get together to share and network" Marjorie said. For more information about NAWIC, go to www.nawic.org.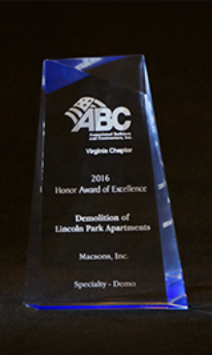 2016 ABC Award of Excellence
Associated Builders and Contractors
ABC of Virginia, 2016 Honor Award of Excellence for implosion demolition of Lincoln Park apartments, in Specialty Demolition. This was the first structural building implosion in the City of Hampton, VA and was implemented flawlessly.